503 Handi Sprayer – WEED & BUG E-LIMINATOR
The 503 Weed & Bug E-liminator by Sprayers-Plus™ is an ideal tool for the small patch gardener or the full time professional landscaper. Spot spraying is a standard horticultural task and the 503 Weed & Bug E-liminator makes the task of applying herbicide, insecticide or pesticide fast and easy.
In addition, the 503 Handi-Sprayer can even be used to apply viscous solutions and chlorine-based solutions of up to 5% household chlorine-based product.
$24.99
Buy Online or In-Store
Primary
Herbicides
Fertilizing
Insecticide
Secondary
General Gardening
General Cleaning
KEY FEATURES
Less than 1 Gallon

Other

Regular Pressure

No Jet Agitation

No Battery Powered
FEATURES
SPECIFICATIONS
PARTS
USER MANUALS
FEATURES
Nozzles Included
We include a variety of high-grade nozzles with our sprayers, allowing you the flexibility to chose how YOU work. Each of our nozzles are customization for peak performance. All nozzles are NOT made equal – Spray your way, efficiently and effectively. Stream, mist, fan – Your choice!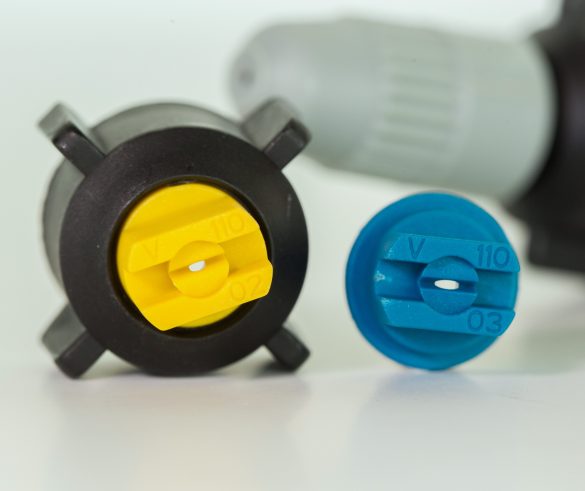 SPECIFICATIONS
System
| | |
| --- | --- |
| Pump Type | Trigger Pump |
| Voltage | No |
| Battery Type | No |
| Duration | No |
| Battery Cycle | No |
| Charging Time | No |
| Battery Weight | No |
| Agitation | No |
| Working Pressure | No |
| Max PSI | No |
Hose
| | |
| --- | --- |
| Hose Length | No |
| Hose Material | No |
| Hose Base Spring | No |
Wand
| | |
| --- | --- |
| Wand Length in (cm) | No |
| Wand Material | No |
| Seals & O-Rings | Viton ™ |
Nozzle
| | |
| --- | --- |
| Plastic Adjustable Nozzle | Yes |
| Brass Adustable Nozzle | No |
| 90 Deg. Plastic Fan Nozzle | Yes |
| 110 Deg. Plastic Fan Nozzle | Yes |
| 120 Deg. Plastic Fan Nozzle | No |
Spray Gun
| | |
| --- | --- |
| Lock pin | Yes |
| Brass Spindle | No |
| Comfort Grip | No |
| Comfort Grip Internal Filter | No |
Comfort and Convenience
| | |
| --- | --- |
| Strap | No |
| Frame Material | No |
| Handle & Lever Material | No |
| Mouth Opening (cm) | 1.30" QuickFill |
| Fold Back Handle | No |
| Polyethylene with UV inhibitor | No |
| High Pressure | No |
Package Dimensions
| | |
| --- | --- |
| Width | 9.84 |
| Depth | 3.94 |
| Height | 11.81 |
PARTS
USER MANUALS