603 Air Booster Concrete Effortless Sprayer
Introducing the 603 Air Booster Effortless Sprayer – the revolutionary solution for concrete applications. Our Sprayer Plus battery-powered concrete sprayer is designed to redefine how you handle concrete chemicals. Unlike manual sprayers on the market, the 603 Air Booster can handle these chemicals flawlessly while offering the convenience of battery power.
With the automatic start/stop pressurization feature, the 603 Air Booster allows you to work effortlessly while maintaining a constant PSI. Adjust the spraying pressure to your specific needs with the 16-32 PSI range, ensuring precise coverage and optimal results.
Safety is a top priority, which is why we've included the Air Link add-on tool. This innovative tool enables you to spray flammable concrete chemicals at a safe distance from the 603 Air Booster, without compromising pressure. The recoil air tube provides up to 30m of safe distance.
The 603 Air Booster is built to withstand popular construction chemicals like xylene, water-based sealant, form oil, bleach, and more. Its durable construction ensures longevity and reliability in the toughest environments.
Embrace the future of spraying with the 603 Air Booster Effortless Sprayer. Say goodbye to traditional methods and unlock a new level of efficiency, convenience, and performance. Trust in the durability, versatility, and innovation of the 603 Air Booster to revolutionize your concrete spraying experience.
$249.99
Buy Online or In-Store
Primary
• Xylene
• Form Oil
• Bleach
• Graffiti Removing
• Water-based Sealants
Secondary
• Gasoline
• Diesel
• Vinegar
• Phosphoric Acid
All flammable chemicals require using the provided Air Link to spray at a safe distance away from the Air Booster and the battery
If you have any questions about chemical compatibility, please contact us at info@sprayers‑plus.com.
KEY FEATURES
2 Gallon

Compression

Regular Pressure

No Jet Agitation

Battery Powered
FEATURES
SPECIFICATIONS
PARTS
USER MANUALS
FEATURES
Battery Powered
The uninterrupted spraying with the Air Booster. Maintain a steady pressure for continuous and precise application, eliminating the need for frequent stops. What's more, the Air Booster allows you to adjust the pressure between 16-32 PSI, ensuring customized control for every spraying task.
Air Link Included
Safety is a top priority. The Air Link allows you to maintain a safe distance while using your Air Booster, ensuring worry-free operation with battery and flammable chemicals. 
Attach your Air Booster to the Air Link, plug the handle back into the spray tank, and maintain consistent pressure through the recoil air tube. The tube offers up to 30 meters of reach for safe movement while spraying, ensuring peace of mind as your Air Booster works remotely and securely.
Long Duration
A battery life that keeps it alive. A single charge empowers you to conquer up to 16 tanks of spraying, equivalent to an impressive 32 gallons! Stay away from interruptions and welcome extended productivity that lasts for days.
Viton & Seals
At Sprayers Plus, we use only the highest quality genuine and industry-trusted Viton® seals.  Viton® seals are both stronger, more durable, and last longer than conventional rubber seals, meaning you can spray longer and leave the worry behind!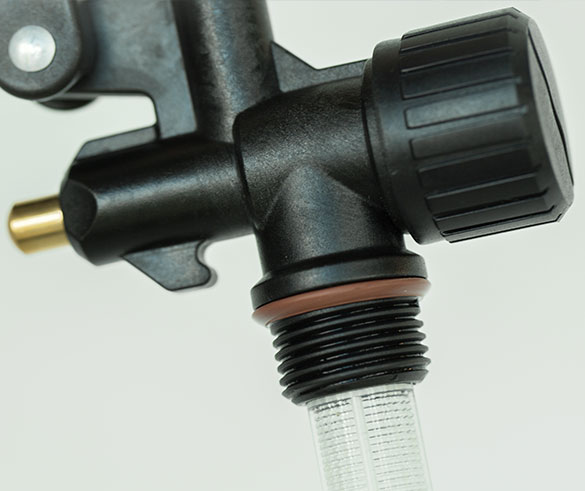 Quality Housing
Quality that you can feel. We use up to 50% thicker cylinders than other leading products in the market. We promise a solid foundation free from distortion, alongside a high duration, long lifetime housing. All our sprayers have a high tolerance for accidental drops, and our special UV Inhibitor on the tank will allow for usage under the sun for 3- 5 years without any cracking. Our unique Sprayers Plus tank design also simplifies the act of putting on and taking off the sprayer!
Removable Connection
Don't let a hose get in your way. With the new screw-in hose connecting method, installing and removing a hose has never been easier. We no longer need to fight a stiff hose from storage or settle it in a car trunk.
Nozzles Included
We include a variety of high-grade nozzles with our sprayers, allowing you the flexibility to chose how YOU work. Each of our nozzles are customization for peak performance. All nozzles are NOT made equal – Spray your way, efficiently and effectively. Stream, mist, fan – Your choice!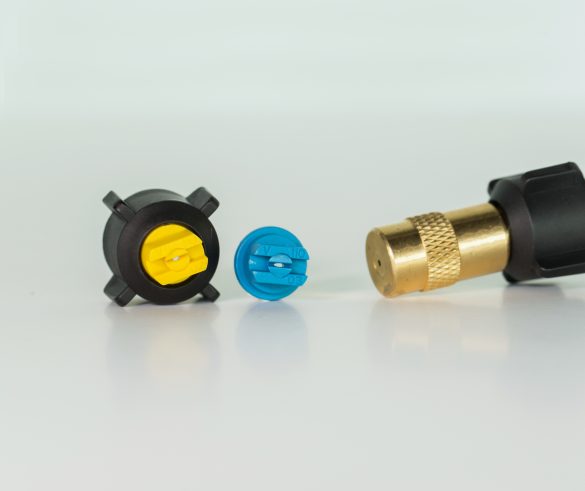 Spray Gun with Filter
Spray all day in comfort with our unique spray gun handle design. Our spray guns feature a filter equipped with a fine screen mesh, providing excellent performance for lacquers and fine finishes. The fine mesh also helps to provide a cleaner, more accurate spray out of the gun tip, while simultaneously preventing unwanted debris from entering the gun that might cause blockage and clogging.
Pressure Relief Valve
Safety First. The pressure relief valve will not only depressurize the sprayer efficiently but also prevent safety hazards from overpressure
Handy Wand Holder
A wand holder hook that retracts for easy retrieval and storage of your Sprayers-Plus wand.
Drip Tray
We design a catchment area for your spray wand to prevent any unwanted dripping while transporting your working area from A to B.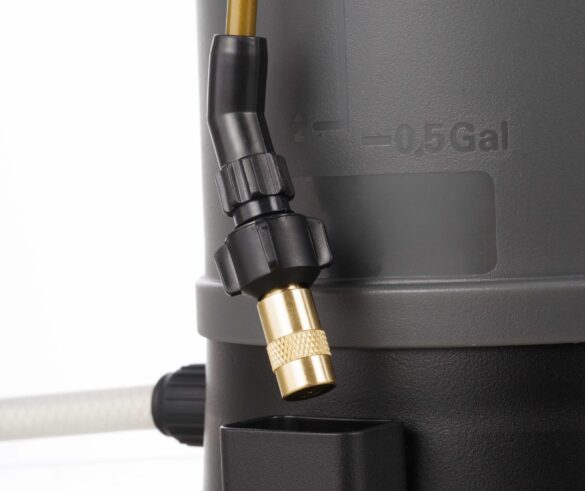 SPECIFICATIONS
System
| | |
| --- | --- |
| Pump Type | No |
| Voltage | No |
| Battery Type | No |
| Duration | No |
| Battery Cycle | No |
| Charging Time | No |
| Battery Weight | No |
| Agitation | No |
| Working Pressure | No |
| Max PSI | No |
Hose
| | |
| --- | --- |
| Hose Length | No |
| Hose Material | No |
| Hose Base Spring | No |
Wand
| | |
| --- | --- |
| Wand Length in (cm) | No |
| Wand Material | No |
| Seals & O-Rings | No |
Nozzle
| | |
| --- | --- |
| Plastic Adjustable Nozzle | No |
| Brass Adustable Nozzle | No |
| 90 Deg. Plastic Fan Nozzle | No |
| 110 Deg. Plastic Fan Nozzle | No |
| 120 Deg. Plastic Fan Nozzle | No |
Spray Gun
| | |
| --- | --- |
| Lock pin | No |
| Brass Spindle | No |
| Comfort Grip | No |
| Comfort Grip Internal Filter | No |
Comfort and Convenience
| | |
| --- | --- |
| Strap | No |
| Frame Material | No |
| Handle & Lever Material | No |
| Mouth Opening (cm) | No |
| Fold Back Handle | No |
| Polyethylene with UV inhibitor | No |
| High Pressure | No |
Package Dimensions
| | |
| --- | --- |
| Width | No |
| Depth | No |
| Height | No |
PARTS
USER MANUALS