Landscape Pro Compression Sprayer
The Landscape Pro is commonly seen on the trailer of professional landscape companies as one of the essential equipment. The Landscape Pro comes with all the best elements you expect a premium sprayer should have. Thanks to the Viton® o-rings and gaskets, the sprayer can handle all lawn care and gardening tasks, herbicides, pesticides, insecticides, weeds & feeds, and all you can name of.
We offer a 50% thicker cylinder than leading products in the market to make it more robust than ever; the tank also has UV inhibitor protection to prevent cracking from long exposure time under the sun. In addition, the 5.24 inches Quickfill mouth opening reduces the risk of spillage while filling. The Landscape Pro Sprayer added new features such as the Wand Holder, Drip Tray & Removable Hose Connector for easy transpiration.
With the recommended working pressure between 15- 60 PSI, it is an ideal sprayer to carry around daily.
Primary
Fertilizing
Herbicides
Weed & Feed
Fungicides
Pesticides
Insecticide
Secondary
General Gardening
General Cleaning
Household Bleach Max. Dilution 1 : 10
KEY FEATURES
2 Gallon

Compression

Regular Pressure

No Jet Agitation

No Battery Powered
FEATURES
SPECIFICATIONS
PARTS
FEATURES
Viton & Seals
At Sprayers Plus, we use only the highest quality genuine and industry-trusted Viton® seals.  Viton® seals are both stronger, more durable, and last longer than conventional rubber seals, meaning you can spray longer and leave the worry behind!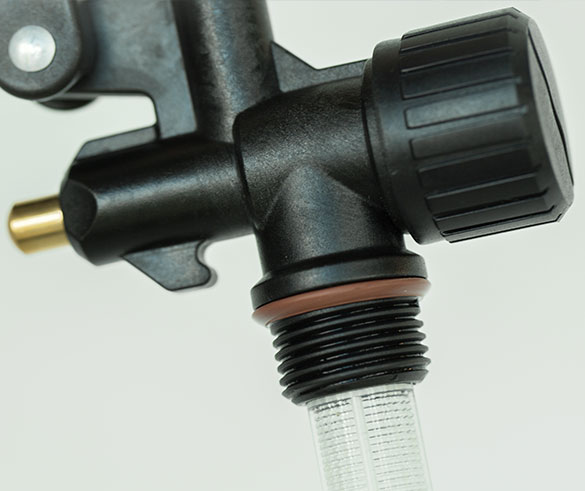 Removable Connection
Don't let a hose get in your way. With the new screw-in hose connecting method, installing and removing a hose has never been easier. We no longer need to fight a stiff hose from storage or settle it in a car trunk.
Nozzles Included
We include a variety of high-grade nozzles with our sprayers, allowing you the flexibility to chose how YOU work. Each of our nozzles are customization for peak performance. All nozzles are NOT made equal – Spray your way, efficiently and effectively. Stream, mist, fan – Your choice!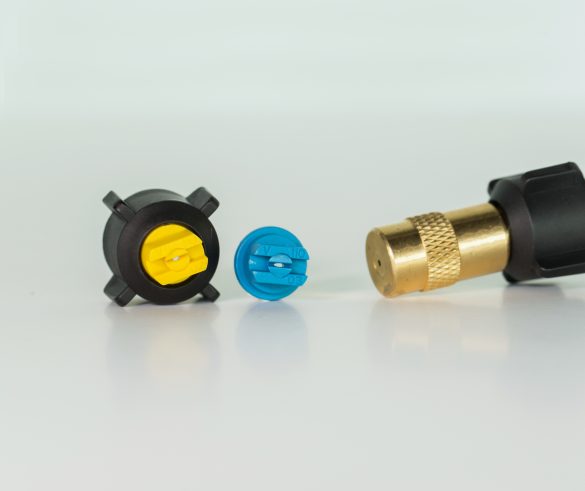 Retractable Wand Holder
A wand holder hook that retracts for easy retrieval and storage of your Sprayers-Plus wand.
Drip-Free Tray
We design a catchment area for your spray wand to prevent any unwanted dripping while transporting your working area from A to B.
Spray Gun with Filter
Spray all day in comfort with our unique spray gun handle design. Our spray guns feature a filter equipped with a fine screen mesh, providing excellent performance for lacquers and fine finishes. The fine mesh also helps to provide a cleaner, more accurate spray out of the gun tip, while simultaneously preventing unwanted debris from entering the gun that might cause blockage and clogging.
Quality Housing
Quality that you can feel. We use up to 50% thicker cylinders than other leading products in the market. We promise a solid foundation free from distortion, alongside a high duration, long lifetime housing. All our sprayers have a high tolerance for accidental drops, and our special UV Inhibitor on the tank will allow for usage under the sun for 3- 5 years without any cracking. Our unique Sprayers Plus tank design also simplifies the act of putting on and taking off the sprayer!
Premium Reinforced Hose
Our Premium Reinforced Hose is both durable and flexible. Compared to the regular transitional stiff hose, our premium flex rubber stays flexible even in cold temperatures, preventing the stress on the barb and grip, which may cause leakage, damage and detachment.
QuickFill
QuickFill lid and mouth opening. Our QuickFill system reduces spillage and saves you time, allowing you to spend more time working. Our precision inner thread engineering enhances the screwing experience to better serve you! Always a perfect fit, 100% sealed and secure. Our lid is designed to be able to lift a full sprayer tank for a lifetime.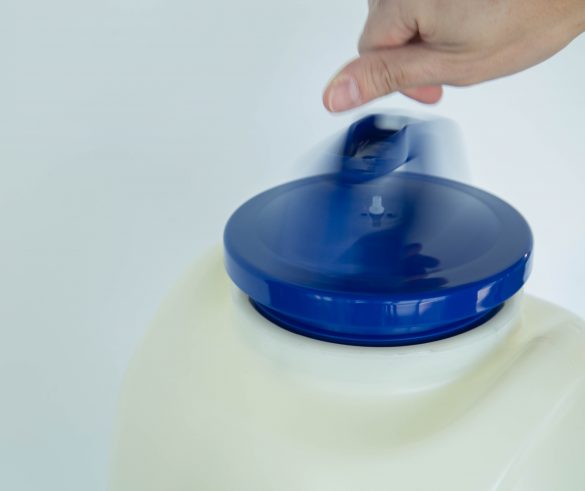 SPECIFICATIONS
System
| | |
| --- | --- |
| Pump Type | Compression Pump |
| Voltage | No |
| Battery Type | No |
| Duration | No |
| Battery Cycle | No |
| Charging Time | No |
| Battery Weight | No |
| Agitation | No |
| Working Pressure | 15-60PSI |
| Max PSI | 100 PSI |
Hose
| | |
| --- | --- |
| Hose Length | 51" |
| Hose Material | Reinforced PVC (Black) |
| Hose Base Spring | Yes |
Wand
| | |
| --- | --- |
| Wand Length in (cm) | 20" |
| Wand Material | Brass (Powder Coated) |
| Seals & O-Rings | Viton ™ |
Nozzle
| | |
| --- | --- |
| Plastic Adjustable Nozzle | No |
| Brass Adustable Nozzle | Yes |
| 90 Deg. Plastic Fan Nozzle | Yes |
| 110 Deg. Plastic Fan Nozzle | No |
| 120 Deg. Plastic Fan Nozzle | Yes |
Spray Gun
| | |
| --- | --- |
| Lock pin | Yes |
| Brass Spindle | Yes |
| Comfort Grip | Yes |
| Comfort Grip Internal Filter | Yes |
Comfort and Convenience
| | |
| --- | --- |
| Strap | Comfort padding/ Adjustable Strap |
| Frame Material | No |
| Handle & Lever Material | No |
| Mouth Opening (cm) | 5.24" QuickFill |
| Fold Back Handle | No |
| Polyethylene with UV inhibitor | Yes |
| High Pressure | No |
Package Dimensions
| | |
| --- | --- |
| Width | 7.87 |
| Depth | 7.87 |
| Height | 24.02 |
PARTS